American Heart Association® –
Certified Products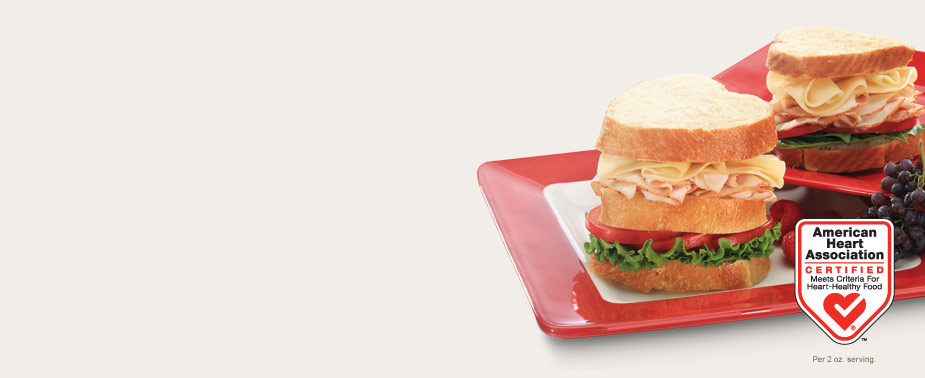 Your Heart's
Health Is No Place
To Cut Corners.™
Boar's Head is proud to work with the American Heart Association (AHA) by participating in its Food Certification Program. We're happy to say that dozens of our premium deli meats display the AHA's distinctive
Heart-Check mark, signifying that these products are heart-healthy foods that meet criteria for fat, saturated fat, cholesterol, specified limits for sodium, and more. How did we meet their high standards? Simply by living up to our own.
View Certified Products
View Good-For-Your-Heart Recipes
Living a Heart-Healthy Lifestyle
Boar's Head encourages everyone to make smart food choices and not to compromise when it comes to living a healthier lifestyle. Heart disease is the nation's leading cause of death for both men and women. Taking care of your heart by eating well is one of the most important things you can do for yourself.
Diet and nutrition play a key role in the prevention of heart disease. It is important to limit excess sodium, calories, saturated fat and trans fat. Sodium increases blood pressure, while saturated and trans fats raise cholesterol to unhealthy levels. Choosing Boar's Head American Heart Association certified deli meats is one step toward a heart-healthy lifestyle.
But avoiding foods that are high in sodium and fat isn't enough. By combining Boar's Head American Heart Association certified deli meats with fruits, vegetables and whole grains, you can live a healthy lifestyle without compromising on flavor.
To view a complete list of Boar's Head American Heart Association certified deli meats, click here.
Tips for a Heart-Healty Diet and Lifestyle
Watch Saturated and Trans Fats.
Saturated fat and trans fat cause your LDL (bad) cholesterol level to increase, which can lead to heart problems. All Boar's Head heart-healthy deli meats are made with premium ingredients to provide the quality flavor you expect, but with 2 g or less of saturated fat and less than 0.5g of trans fat per serving.
Keep the Flavor, Lose the Salt.
Reducing sodium helps to lower blood pressure and maintain a healthy heart. Our heart-healthy deli meats contain 480 mg or less of sodium per serving. Pair our lower sodium cheeses with a heart-healthy turkey or chicken for a sandwich that piles on the flavor, but not the salt.
Heart-Check Your Foods.
The American Heart Association Heart-Check mark is an easy way to identify foods that will make your heart happy. Boar's Head is proud to offer dozens of certified heart-healthy premium deli meats. Try them in our good-for-your-heart recipes for delicious sandwiches, entrees and salads.
Moderation is Everything.
Like everything else, common sense is key. Too much salt can be a true health danger. Balancing Boar's Head lower sodium deli meats and cheeses with fruits, vegetables and whole grains can help contribute to a healthy lifestyle.
Get Moving.
By exercising for as little as 30 minutes a day, you can reduce your risk of heart disease. Set small, achievable goals that you can commit to in order to make physical activity a permanent part of your healthy lifestyle. Try these simple tips from the American Heart Association to get started.
Boar's Head Good-For-Your-Heart Recipes*
Your heart's health is no place to cut corners.™ Try our simple and delicious recipes that are good for your heart.
American Heart Association Certified Products
Media & Resources
AHA-Certified Products
Dozens of our products are certified as heart-healthy.
View & Download