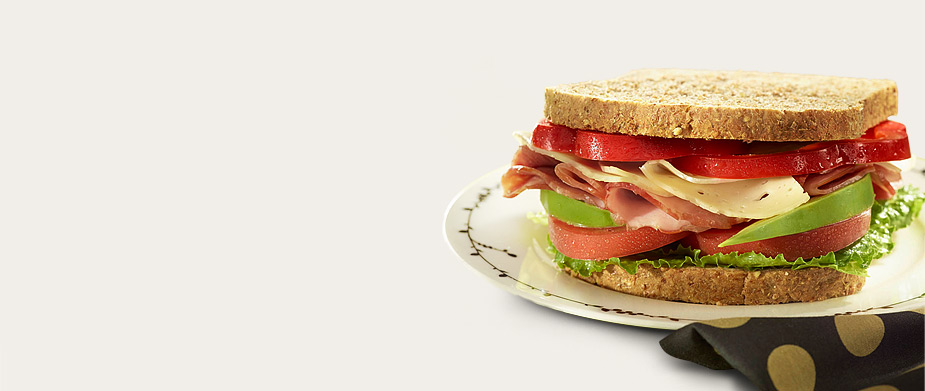 Pile on the Flavor,
Not the Salt.
At Boar's Head, we have always been committed to providing wholesome, nutritious product choices by using the finest ingredients available. That's why Boar's Head offers an entire line of premium lower sodium deli meats and cheeses that pack great flavor, never compromising on quality or taste.
In 2010, when the National Salt Reduction Initiative was announced, we were in the first group of 16 companies to sign on and we were the first delicatessen products company to join. For us, pledging our commitment was easy. We began meeting the 2012 and 2014 sodium targets for deli meats over 25 years ago. We're honored to be the brand your family trusts for nutrition and flavor.
View Lower Sodium Products
View Lower Sodium Recipes
Lowering Your Sodium Intake
Many don't realize that sodium occurs naturally in foods you wouldn't even think of…foods like fresh vegetables, fresh poultry and meat, and even milk and dairy products. Taste alone may not reveal which foods are high in sodium. It's all in your control if you just choose the right foods and take a little extra time in sizing up what's best for you. An important step is to read nutrition labels and compare the sodium content of similar foods.
At Boar's Head, our research and development has always been driven to create high quality food. Having lower sodium products is nothing new for us. Since the company began, we have developed our products to serve friends and family plentifully; always with a dedication to eating well.
The reason many foods are often loaded with sodium is that they have no flavor of their own. However, when you begin with products of exceptional quality, as Boar's Head does, you begin with flavor – natural flavor. Unlike some processed foods that rely heavily on sodium for flavor, the taste of Boar's Head products comes from the quality of our ingredients – pure pork, turkey, chicken and beef, combined with real spices and no artificial ingredients – making it unnecessary to overuse salt as a flavor enhancer. We are proud to say that our meats and cheeses contain no fillers, artificial colors or flavors, gluten or trans fat. We wouldn't put anything in our products that you wouldn't put on your own table. In addition, Boar's Head products are not meant to have a long shelf life, and therefore less salt is used as a preservative. 
Tips to Lower Your Sodium Intake As Part of a Healthy Lifestyle
Choosing the Right Foods for You.
Sodium can occur in many foods you didn't even think of – including the freshest of vegetables. Fresh poultry, meat, and even milk contain sodium. Taste alone may not reveal which foods are high in sodium. It's all in your control if you choose the right foods and take a little extra time in sizing up what's best for you.
Skip the Bread.
Bread is the biggest contributor of sodium to the American diet, so on occasion, opt for an open-faced sandwich, or skip the bread entirely and have Boar's Head lower sodium meats and cheeses on a salad.
Keep the Flavor, Lose the Salt.
Boar's Head's full line of lower sodium deli meats and cheeses are created with the finest quality ingredients and are packed with natural flavor – no need to load up on salt. Try them in our lower sodium recipes or, swap them into your favorite sandwiches or salads to help reduce sodium.
Moderation is Everything.
Like everything else, common sense is key. Too much salt can be a true health danger. Balancing Boar's Head lower sodium deli meats and cheeses with fruits, vegetables and whole grains can help contribute to a healthy lifestyle.
Featured Lower Sodium Recipes
Reducing sodium in your diet doesn't mean removing the flavor. Try our low sodium recipes for healthy meal options.