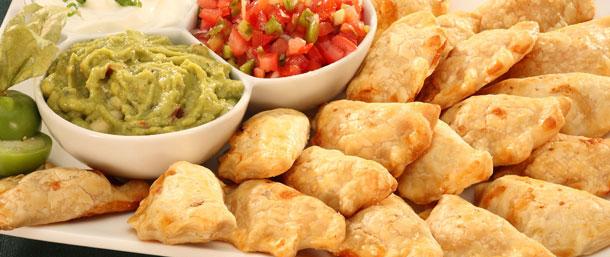 Blazing Buffalo® Chicken Empanada Bites
Cooking Time 55min
Difficulty Level intermediate
Preheat oven to 400°F. Lightly spray a baking sheet with cooking spray. Set aside.

In a large bowl, combine cream cheese, Blazing Buffalo Chicken, and cheese. Set aside.

On a lightly-floured, flat work surface, roll out the dough.

Using a 3" round cookie cutter, cut out rounds. Re-roll dough as needed. Repeat procedure with remaining dough.

Lightly brush the edges of the dough with water.

Place 1 heaping teaspoon of chicken mixture into the center of each round.

Fold the dough over the filling, pressing the edges with a fork to seal. Repeat with the remaining rounds and chicken mixture.

Arrange empanadas on the prepared baking sheet. Bake for 15 minutes and cool.

Serve with guacamole and sour cream for dipping.