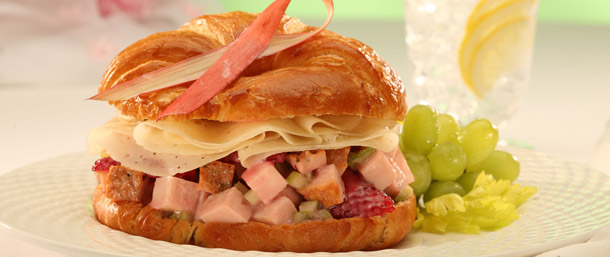 The Pink Ribbon EverRoast® Chicken Salad Croissant
Boar's Head created this original sandwich in pink for the 2010 ladies day at Churchill Downs during the running of the Kentucky Oaks, and for the benefit of Susan G. Komen for the Cure. This chicken salad is lightly coated with dressing to keep it healthy.
Cooking Time 10min
Difficulty Level easy
Use a fork to mix the celery and strawberries with the cream cheese.

Stir in the vinaigrette dressing. Thicken with yogurt as desired.

Cut the chicken into a ½-inch dice and mix into the dressing.

Slice the croissants from the end, leaving the round back end of the crescent uncut (hinged).

Place the chicken salad onto the croissant. Add a few sliced strawberries and then layer on the cheese.

Garnish with a peeled slice of rhubarb to make the classic Komen ribbon in edible form, or, just garnish with a small strawberry.