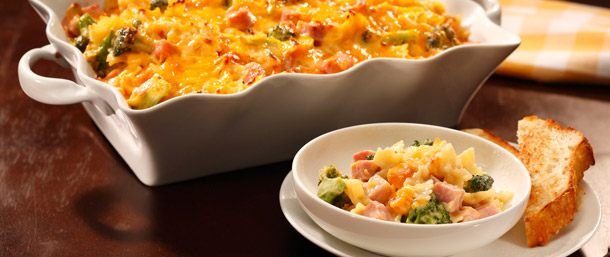 Sweet Slice® Ham & Cheddar Cheese Casserole
The perfect blend of sweet and savory, our Sweet Slice Ham & Cheddar Cheese Casserole makes for a quick and easy family meal.
Cooking Time 40min
Difficulty Level intermediate
Preheat oven to 350°F.

Cook pasta and broccoli according to package directions. Pasta should be cooked al dente.

Place pasta, broccoli and ham in an oven proof baking dish.

In a small saucepan, melt butter over low heat and add salt, nutmeg and flour stirring constantly until well blended.

Add milk and continue stirring. Once sauce thickens, add grated cheese and stir until cheese melts and sauce is smooth.

Pour cheese sauce over ham, broccoli and pasta, coating well.

Bake in a 350°F oven for 20 minutes.