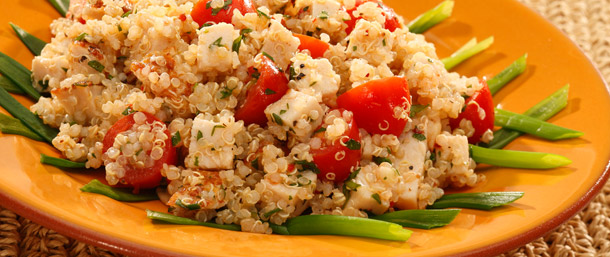 Lower Sodium Golden Classic® Chicken Quinoa Salad
Cooking Time 30min
Difficulty Level intermediate
Lower Sodium
ADA Reviewed
Nutritional Information
Serving Size: 245g
| Calories | | Total Fat | | Sat Fat | | Trans Fat | | Cholest | | Sodium | | Protein |
| --- | --- | --- | --- | --- | --- | --- | --- | --- | --- | --- | --- | --- |
| 265 | | 9.5g | | 1g | | 0g | | 34mg | | 490 mg | | 19g |
Cook Quinoa according to package directions.

Once cooked,transfer to a bowl and set aside for 10 minutes. Fluff with a fork.

Combine the quinoa, tomatoes, herbs and chicken.

In separate bowl, combine oil, lime juice, vinegar, salt and garlic.

Drizzle over salad, add pepper to taste.

Mix well and chill. Serve cold.