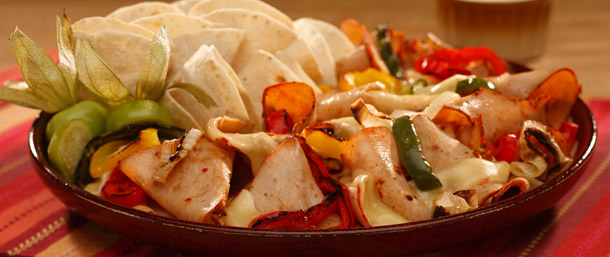 Salsalito® Turkey Tapas Melt
Peppered with jalapeno, and rubbed with sun-dried tomatoes, cilantro, and other spices, the Salsalito Turkey Breast inspired this Mediterranean appetizer, great to serve friends with a glass of fruity wine.
Cooking Time 12min
Difficulty Level intermediate
In a medium ovenproof skillet, heat the oil over medium-high.

Add the peppers and onions and sauté, turning often until lightly browned. Remove from heat.

Fold in the turkey.

Layer the cheese overtop and place the skillet under the broiler a few minutes, just to melt the cheese.

Cut the tortillas into bite-size wedges.

Transfer the tapas mixture to a serving platter, keeping the cheese on top and leaving room for the tortilla wedges. Garnish with sliced tomatillo and cilantro; serve warm.