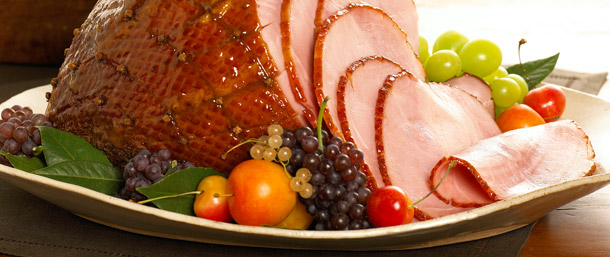 Watch This Being Made
Sweet Slice® Ham with Brown Sugar & Spice Glaze
Simplify your holiday dinner with this easy Sweet Slice® Ham with glaze recipe.
Cooking Time 1hr 15min
Difficulty Level easy
Preheat oven to 325°F.

Remove ham from packaging and lightly score in a diamond pattern with a sharp knife.

Place in a shallow roasting pan. Pat a thin layer of glaze on entire surface of ham, reserve a small amount for basting. Add water to pan.

Tent ham with aluminum foil, sealing edges tightly to the pan.

Bake 15 minutes per pound. Remove ham 15 minutes before it finishes baking and apply additional glaze if desired.

Raise oven temperature to 425°F and bake uncovered for remaining 15 minutes.