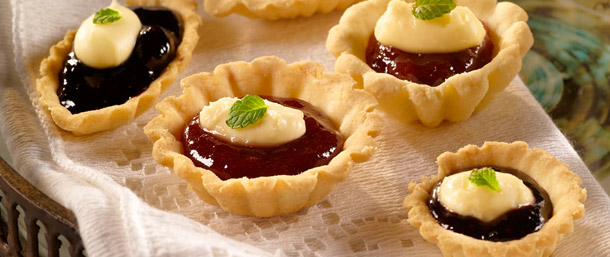 Gluten Free Brie Tartlets
Our tartlet is a creative combination of flavors that can be served as an appetizer or as a dessert.
Cooking Time 40min
Difficulty Level intermediate
Preheat oven to 325° F.

Lightly coat mini muffin tin with non-stick cooking spray.

Roll pie crust into ball to form dough. Roll and pat out to ¼" thickness.

Cut 12 squares to fit into muffin cups. Gently press pie crust squares onto bottoms of the 12 cups. Save any remaining pie crust for another use or make additional Brie tartlets.

Bake pie crust for 15-20 minutes until lightly browned.

Carefully remove tartlets from pan and place on cooling rack.

Top each pastry cup with 1/4 teaspoon preserves and 1 teaspoon brie. Dust with powdered sugar to garnish.