Asia
USA
Latin America

&

The Caribbean
Europe
Asia
Explore
Asia
Featuring Savory-Sweet
Teriyaki

&

Curry
Explore the
Culinary Delights of
Asia
Centuries of culinary tradition and wisdom influence Asia's many celebrated flavors and dishes. Chefs place an emphasis on fresh seasonal ingredients prepared with a minimalistic approach. Our Asian-inspired Bold flavors reflect this philosophy as they are carefully crafted with select spices and the finest ingredients, and always sliced fresh at the deli.
Learn More Below

Madrasala

Curry Chicken Breast

Bold

The name "madrasala" blends Madras, a style of curry, and masala, which comes from the hindi word for spice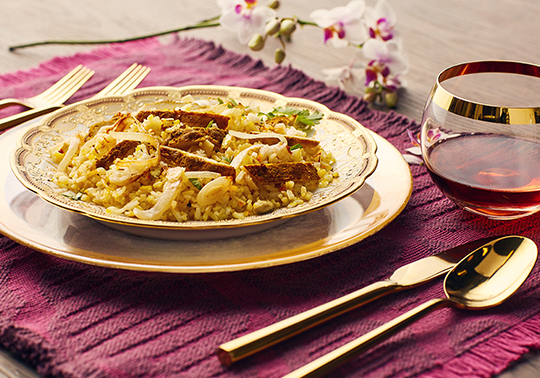 I
nspired by
the fragrant cuisine of India,
Bold

Madrasala

Curry Chicken Breast
is an enchanting culinary adventure. Authentically crafted with aromatic spices, including warm turmeric and garlic, and expertly blended with red chili peppers to add a gentle heat. Each slice will transport you to the exotic lands of South Asia.
Bold Ichiban
Teriyaki

Style Chicken Noodle Bowl
Y
our culinary senses
will be enlightened by the rich warmth and sophisticated textures of this Asian-style noodle bowl, featuring our
Bold Ichiban

Teriyaki

Style Chicken Breast
. Inspired by the ancient teriyaki cooking style of Japanese master chefs, it offers distinct notes of ginger, garlic and a hint of brown sugar.
View Full Recipe
USA
Explore
USA
Featuring Sweet
Bourbon

&

Spicy Cajun
Explore the Distinct
Tastes of the
USA
America is a tapestry of cultural and culinary styles, from the zesty flavors of Southwestern pepper-based foods, to the sweet-smooth tastes of Southern fare, to the intense seasonings of New Orleans cajun. Journey with us across the states to discover a Bold blend of our favorite American flavors available fresh at the deli.
Learn More Below

Latin America

&

The Caribbean
Explore
Latin America


&

The Caribbean
Featuring Fiery Chipotle


&

Peppenero Garlic
Explore the Vibrancy of
Latin America

&

The Caribbean

Latin American & Caribbean food is robust, flavorful, and always inventive. Pulling from a colorful cultural history, from the Mayans to the Aztecs to European settlers, the cuisine relies on a spectrum of vibrant tastes. Join us as we tour the region's most iconic flavors and dishes that transcend borders and have found their way fresh to the deli.
Learn More Below

Europe
Explore
Europe
Featuring Piquant Marbleu


&

Savory Mozzarella
Explore the
Rich Flavors of
Europe
Historically developed by royal and noble courts, European cuisine has evolved over centuries of changing cultures and traditions. Culinary practices now vary widely between countries, as each region has crafted its own distinct specialties. Join us as we journey from the British Isles to the Italian countryside and explore our favorites, now available fresh at the deli.
Learn More Below