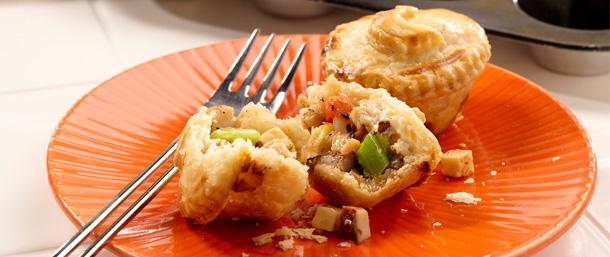 Blackened Turkey Pot Pie Bites
These tasty bites have everything: Bold Blackened Turkey, spicy cheese, vegetables, and a touch of velvety Crème fraîche. 

Cooking Time 30min
Difficulty Level intermediate
Preheat oven to 425°F. Spray a 12-count mini-muffin pan with cooking spray. Set aside.

In a large bowl, mix vegetables, Blackened Turkey, and cheese. Set aside.

On a lightly-floured, flat work surface, roll out the dough 1/8" thick.

Using a 3" round cookie cutter, cut out 12 pieces of dough. Using a 2" round cookie cutter, cut another 12 pieces of dough.

Press the 3" dough rounds into the muffin cups.

Evenly distribute the mixture into each cup. Top 1 tsp of Crème fraîche into each cup.

In a small bowl, mix egg and water using a fork.

Brush the edges of the dough rounds with the egg mixture and place the 2" dough rounds on top of the cups.

Lightly press the edges of the top and bottom dough rounds together with a fork to seal. Then press around the edges of the pies using the tines of a fork.

Brush the tops of each pie with the remaining egg mixture.

Bake for 11-13 minutes or until golden brown.